---
Eyes & Hands FORMS 5 automatically captures data from all types of documents in any format. This includes paper forms, fax forms, Internet forms, and electronic forms. FORMS 5 recognizes and interprets all types of data: handwritten, machine-printed, barcodes, check boxes, circles, tables, matrixes, and even complete addresses. FORMS 5 also offers color processing, which increases interpretation and production efficiency. While any of your pre-existing forms can be processed by FORMS 5, you can also use the form designer function to create a Microsoft Word form that is automatically defined for use in the FORMS 5 system.
Thousands of Eyes & Hands FORMS installations, both large and small, are operating worldwide in many different industries. ReadSoft's commitment to being the world leader in forms processing technology is reflected in its placement of subsidiaries and distributors on all continents. Expertise and support are always close to home.
The Eyes & Hands FORMS 5 application is available in the following languages:
- Danish
- English
- French
- German
- Italian
- Polish
- Spanish
- Swedish
When it comes to interpreting data, FORMS 5 provides character support for 20 different languages, along with country-specific settings. Eyes & Hands FORMS 5's ease of use, accuracy, versatility, and speed are a result of the dedication of the largest and most innovative development department in the data capture industry. Always in line with real-world business demands, FORMS 5 meets your forms processing needs.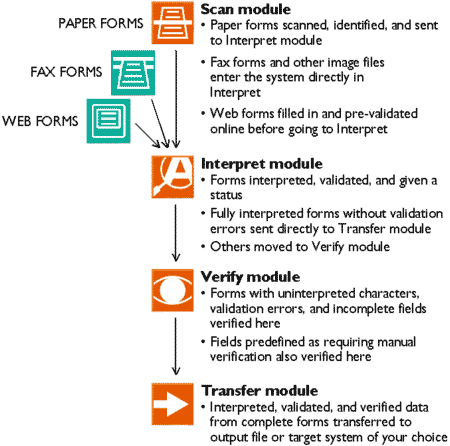 Once you use theManager moduleto tell the system what information it should look for on your forms, you can begin production.
In theScan module, filled-in paper forms are entered into the system using a scanner. Fax forms (or other image files) and filled-in web forms enter the system when theInterpret moduleis started. In the Interpret module, FORMS 5 interprets, validates, and stores the forms in the computer.
Uninterpretable characters and responses that break preset validation rules are displayed on the screen in theVerify modulefor quick correction. When the forms are complete, theTransfer modulemoves the captured and verified data to the output file or target system of your choice.
The optionalMonitor moduleprovides enhanced system supervision by offering reports of system activity, as well as real-time monitoring of the FORMS 5 system and its users.
FORMS 5's scalability allows you to process current volumes and then simply add modules to the system as your forms processing needs increase.
You can also integrate Eyes & Hands FORMS 5 with other computer systems, such as electronic archiving and workflow systems. FORMS 5 is incredibly open and flexible, offering you many ways to customize the system to your needs.
All types of forms can be interpreted
Data input from paper, fax, or web forms
Fast and accurate interpretation
Minimizes the manual work needed to capture data
A reliable and secure system
Versatile, efficient, and flexible
Easy to set up and use
A well-working and proven system
Wide range of built-in functions
Scalable for processing from 50 to over a million forms per day
A turnkey production system for forms processing
Outstanding ICR/OCR/OMR/barcode interpretation, including
Extensive built-in validation possibilities
Color scanning, interpretation, and image filtering
Forms deskewing, identification, and removal during the scanning process
Fast verify and mass verify
Microsoft SQL server for additional system security, reliability, safety, and performance
Open design for integration with other applications
Built-in VBA editor
125 predefined events and 600 methods
Web capture, address capture, and advanced system supervision
Global market leader
Publicly traded, successful company (75% average annual growth rate for 6 consecutive years)
Successfully used in a variety of industries
Thousands of installations worldwide
Many types of installations: small to large, standard to extremely customized
Proven in very large volume data capture segments
ReadSoft local representation in 10 countries and distributors in nearly 50 countries offering quality support
All industry standards adopted
The industry's largest development group is continuing to enhance the product
Product Overview
The Product Overview (formerly known as "Technical Overview")" describes the key components and benefits of the Eyes & Hands FORMS system, including a general explanation of how the system is operated.
Fact Sheet (PDF format)
The Fact Sheet provides a brief description of what Eyes & Hands FORMS is, as well as system requirements and other detailed program specifications.
You will need Acrobat Reader to view this document.
---